Queen's House is a gathering place and oasis in an ever changing world. We are nestled in a quiet corner of Saskatoon on the bank of the South Saskatchewan River.
Retreat & Renewal
Queen's House is a creative blend of leisure and challenge, solitude and community, prayer and interaction. We offer a variety of retreats, workshops, and programs for spiritual direction aimed at nurturing body, soul, and spirit.
Our Facility
Our facility is bright, spacious and flexible enough to accommodate a variety of groups for different types of programs. Your business, organization or service group will appreciate the atmosphere of quiet, away from daily distractions. Caring staff will endeavor to serve your individual and/or group needs.
Our  Web Site
Welcome to the Queen's House web site.  We have been able to develop this on-line feature with the help and support of our partners and friends in our community.  We strive to keep our content updated so that we can serve our community wisely and well.  We are very excited about what we hope to offer our visitors, community and friends.  Technology that is used well is a great gift.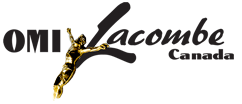 INFO LACOMBE (Oblate bi-weekly)