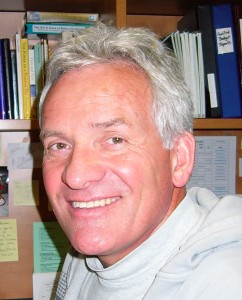 A MESSAGE FROM OUR DIRECTOR – BRENDAN BITZ
Our current programming and mission theme is entitled "Change + Challenge – Grace + Gratitude". It has been selected as a reminder that the gospel of Jesus Christ invites us to seek and to move to an ever higher level of consciousness, an ever higher level of maturity and commitment, and an ever higher level of being the hands of Christ in our families, our communities, our world.
On behalf of the Oblates of Mary Immaculate, our staff, our Board and our wonderful community of support, we invite you to join us in the peace and sanctuary of Queen's House for some precious space and time to respond to the wonderful invitation of Jesus as our model.  Our commitment is to support all to become more than who we are today and to celebrate the change, the challenge and the grace in our lives.  We encourage you to participate in our programming, to spend time in this sanctuary, to enter the stillness and to allow yourself time to respond to the invitation to embrace the model of Jesus in our lives.  God bless you!  Hope to see you soon!
June 2013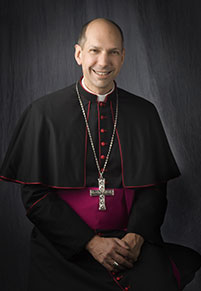 A MESSAGE FROM OUR BISHOP DON BOLEN
The diocese is grateful for the ongoing ministry of the Oblates in the Diocese, which over the years has included priestly ministry in our parishes in additions to their ministry at Queen's House.  While Queen's House operates independently of the diocese, it offers invaluable space and services to Catholics in the Diocese, such as space for meeting, retreat and Lay Formation, as well as bringing world –class retreat facilitators.  Many of its programs provide nourishment to the Catholic community.
The Oblate charism is characterized by the welcoming hospitality of Jesus.  Queen's House extends this hospitality beyond the doors of our churches providing a meeting place and sacred space for all members of our community.  We are especially grateful for the ecumenical outreach which Queen's House offers and embodies.  In this respect and in many others, we are blessed to count Queen's House, its staff and the Oblates among our partners in Catholic ministry in the Diocese of Saskatoon.
+Donald Bolen – Diocese of Saskatoon
View Queen's House of Retreats in a full screen map