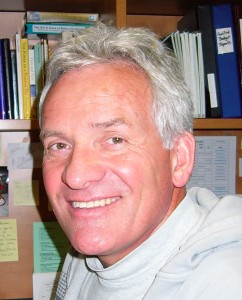 A MESSAGE FROM OUR DIRECTOR – BRENDAN BITZ
Our Mission Statement invites us to live into the following:
As a retreat and renewal centre, we offer sacred space for self-reflection, encounter with others, and spiritual exploration.
Nourish Your Mind – Nurture Your Spirit
On behalf of the Oblates of Mary Immaculate, a Roman Catholic order who own this retreat centre, our Staff, our Board, our committed Volunteers and our wonderful community of support, we invite you to join us in the peace and sanctuary of Queen's House for some precious space and time for reflection, meditation, learning, prayer and self-discovery as you explore your own spiritual journey. Our commitment is to support all to become more than who we are today and to celebrate the change, the challenge and the grace in our lives.  We encourage you to participate in our programming, to spend time on our 'holy ground' – the retreat centre and our property – to enter the stillness and to allow yourself the time you need to catch your breath and be renewed. Hope to see you soon!