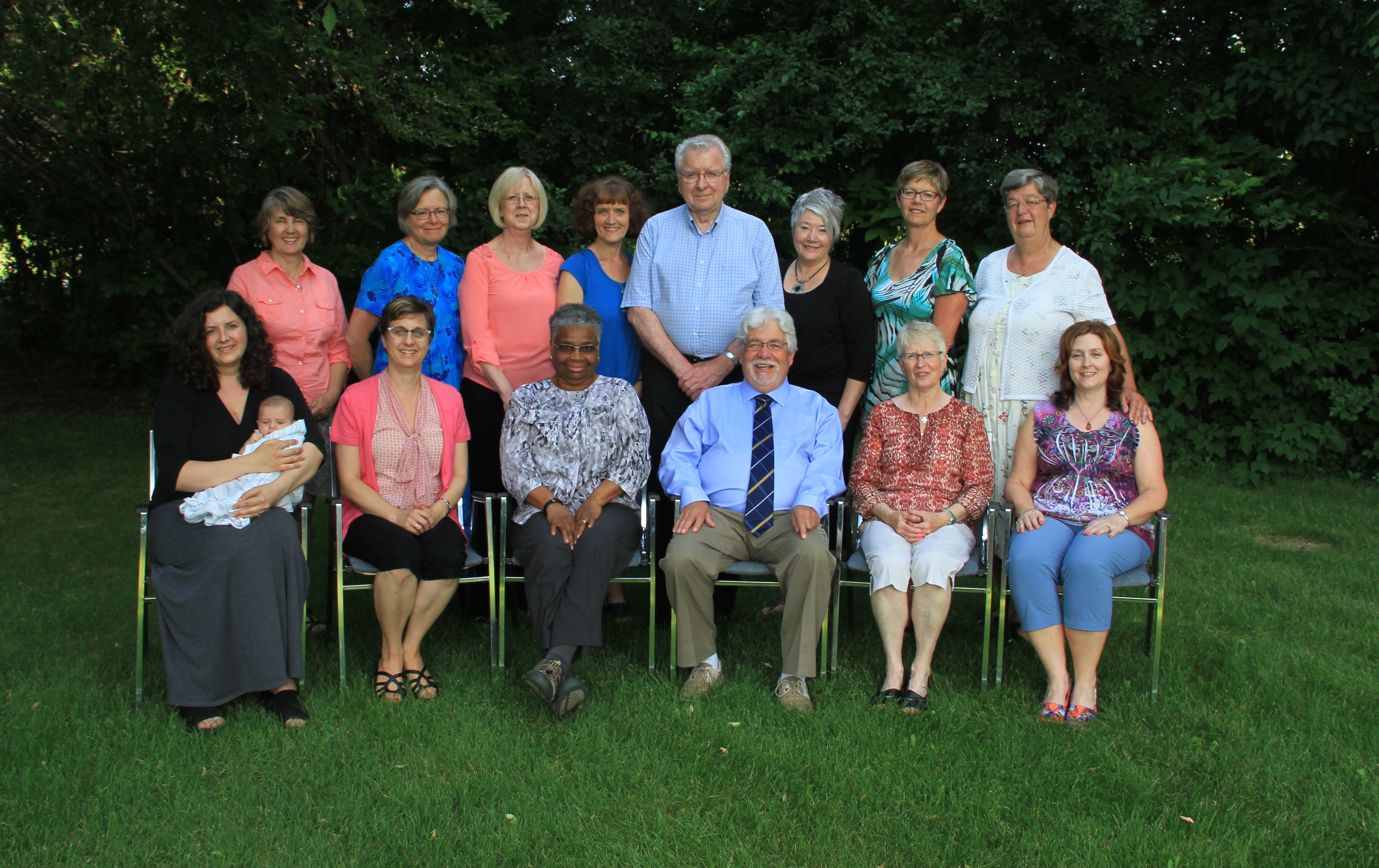 Graduates of the Spiritual Direction Formation Program
Sitting left to right: Heather Hedlin holding Miriam, Maureen Chastkiewicz, Gloria Daum, Ron Flamand, Kathy Hitchings, Kim Morrison. Standing in back row: Sheila Trumpy, Cathy McGeragle, Carolyn Crittenden, (Director Team: Dianne Mantyka, Bishop Gerry Wiesner, Gisele Bauche), Mona Goodman, Marie-Louise Ternier-Gommers.
"It is not we who choose to awaken ourselves, but God who chooses to awaken us". Thomas Merton
The Spiritual Direction Formation Program has been offered at Queen's House of Retreat and Renewal in the Diocese of Saskatoon for several years. This recent 2 year program began in January of 2013 and ended in July of 2014. Bishop Gerald Wiesner, OMI, Gisele Bauche and Dianne Mantyka organized and facilitated the Spiritual Direction Formation Program, offering their life experience, ecumenical background in Theology, Biblical Studies, Spirituality and Prayer, along with their years of experience in Ministry, Mission, and Spiritual Formation.
The program offered participants knowledge and skills for Spiritual Direction ministry, while also integrating their own spiritual journey and self- awareness. Practicing spiritual direction and reflection assignments facilitated their integration and growth.
A variety of presenters that are well regarded in the field of spirituality and spiritual direction contributed to the program's content. Some topics included were prayer, discernment, contemplation, dream work, mystics, social justice, as well as biblical, Ignatian, Benedictine, aboriginal, ecological, and 12-step spirituality. These were embraced and integrated into the lives of the participants, equipping them to be more fully alive and more present to others in their faith journeys, invitations, and challenges.
The group was inter-denominational, our graduates being from a variety of backgrounds. Participants came from Edmonton, Regina, Bruno, Humboldt, and Saskatoon.
The next Spiritual Direction Formation Program:  January 2016  to  July 2017 
Brochure for more information:  SDFP2016-17QHBrochureformatMar2015

For further information contact
Dianne Mantyka at 306 – 931-7118,
Gisele Bauche at 306 – 384-2850, or
Queen's House Retreat & Renewal Centre 306 – 242-1916