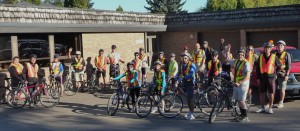 The cyclists who rode in the 2013 Annual Bike-a-thon.
WE SUPPORT THE MINISTRY OF QUEEN'S HOUSE RETREAT & RENEWAL CENTRE!
Sunday, September 14th, 2014
Enjoy a day travelling the countryside while raising funds to support our ministry!
REGISTRATION FORM:    Bike a 2014 2
SPONSOR SHEET:  Bike-a-Thon Pledge Forms 2014
 NEW THIS YEAR!   "ADOPT A RIDER"
to support the ministry of Queen's House Retreat & Renewal Centre.  Be part of the Queen's House Bike-a-thon without breaking a sweat.  
WIN-WIN-WIN:  Queen's House wins, your group wins and you, the donor, wins!
RIDER ADOPTEES:     I/we will adopt (choose one) through our donation:  
Fr. Paul Fachet, OMI;
Brendan Bitz,  Executive Director;
Gerry Weinkauf, Development Officer.
REGISTRATION FORM:  ADOPT A RIDER Form
PLEDGE FORM: Bike-a-Thon Pledge Forms 2014  
  YOU CAN  RAISE $500 IN JUST 9 DAYS!!!
Day 1:  sponsor yourself $25
Day 2:  ask 2 family members to each sponsor you $25
Day 3:  ask 5 friends to sponsor you $20
Day 4:  ask 5 co-workers to contribute $10 each
Day 5:  ask 5 neighbors to sponsor you $10
Day 6:  ask 5 people from a ball team, social/group to contribute $10 each
Day 7:  ask for a company donation of $25
Day 8:  ask 5 local merchants to each sponsor you $20
Day 9:  ask 2 businesses you frequent (doctor, dry cleaner) for $25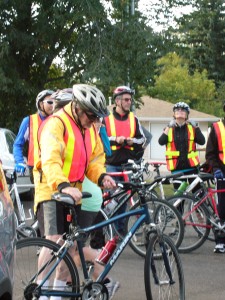 Raise Funds for Your Group While Supporting Queen's House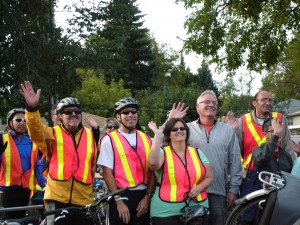 Register for this event on behalf of a church organization, school group or faith group organization and 50% of what you raise will go back to your parish/organization.  Get your Choir, Youth Group, School Group involved and participate as a team!  Be sure to fill in the appropriate area on the registration form.
How to Participate:  As an avid cyclist you can participate in this event  by paying a $100 entry fee, or this fee is waived if you raise in excess of $100 in sponsorship donations.
The Bike Route:  We will ride 27.2 km. from Queen's House down Lorne Ave., along Highway 219 to Dakota Dunes  and riding the 27.2 km back to Queen's House.
The Itinerary:
8:00am       Breakfast at Q.H.
9:00am       Cyclists depart
10:30am      Arrive at Dakota Dunes    Nutrition Break
11:00am     Return ride to Queen's House
12:30am      Lunch, Visit, Celebration!
What You Need: 
First and foremost, a bike and lots of enthusiasm!  Water and food will be provided for everyone along the way, no matter how far you go. You will need to supply your own water bottle.