IN GRATITUDE!
EVENING SPONSORS: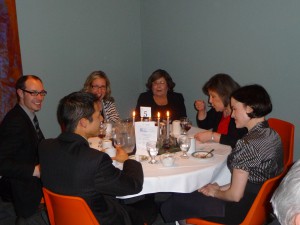 Cocktails and appetizers – Elaine and Peter Zakreski; Pianist –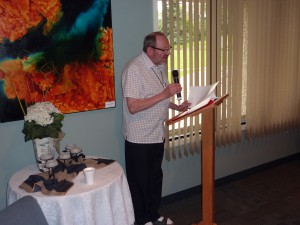 Sister Teresita Kambeitz, OSU; Grace before dinner – Bishop Emeritus Gerry Wiesner; Wine sponsors – JoAnne Chrones and Brian Zimmer; Live Auction – Elaine and Joe Sikora;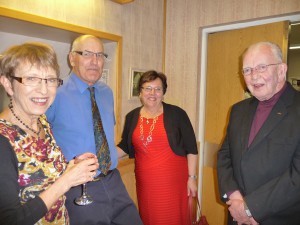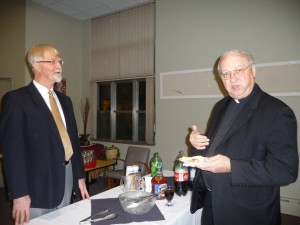 Entertainment Sponsors – Janet and Art Postle; Centre Pieces – Helen and Lorne Keller; Students of Holy Cross High School for serving; Master of Ceremonies – Father Paul Fachet, OMI;
RAFFLE SPONSORS:
Holiday Centerpiece, Candle Holders, Chocolates – Madeline & Marvin Cooney; Turtle Quilt – Dawn Ziolkoski; George Foreman Grilling Machine,  Electric Bean Pot – Ev & Rick Devon; Biolage Colored Hail Treatment – Charas; Bushnell Refractor Telescope,  Celestron Sky; Maps – Linda Hoult; Optical Mouse,  Theormes,  Ceramic Teapot/Cup Ornament – Dutch Growers; Non Perishable
Gift Basket – Saskatoon Cooperative Ltd.; little girl's baking basket; Malawi Nativity Set – Elaine and Peter Zakreski; Shear Excellence Hair Artistry – Terry Swan; Crystal Glass Vase, Decorative Glass Vase – Madeline & Marvin Cooney; BBQ Tool Set Encased in Wood Chest, Bottle of Wine – Janet & Art Postle; Vase – Furniture World;  Traxx Footwear Gift Certificate – Bob Miller; Gibson Fish & Chips Gift Card – Gibson Family; Cave Gift Certificate – Cave Restaurant; Christmas Wreath   (Coffee/Tea Potpourri) – Town Coffee Services; Gardening Package – Early's Farm & Garden Centre; Hair and Body Products – Helen Keller; Tomas the Cook Gift Certificate – Jim Tomas; Diamond Simulant Earrings – Heinrichs, Bill Chys; 10K Gold Cross Pendants – Lisa & Gerry Holst; Arbonne Beauty Basket – Yvonne Wiesner; Persephone Theatre Tickets – Janet & Art Postle; Nativity Silhouette – Dan Bittner;
LIVE AUCTION DONATIONS:
Oil painting No Need for Words – Linda Hoult; Paramount Day Spa Gift Basket (SARA) – includes Karley Smith necklace and earings, skin care products and gift certificate (facial and colour service and clothing accessories); Milwaukee 1/2 " hammer drill/driver kit – Eecol Electric (Gary Karpinka);  Steve Yzerman Autographed Detroit Red Wing Jersey – Byron Bitz; Prairie Meats gift certificate – Gene Dupuis; Safeway Gift Certificate – Henry Rolheiser; Weston Dressler Jersey/Rider Hat – Saskatchewan   Roughriders; Jane's Floral Dreams Gift Certificate – Lyle Hessdorfer; Merle Norman Spa Pedicure – Paulette Schumacher; Geroy Simon Jersey/Rider Hat – Saskatchewan Roughriders; Klassique Designs Gift Certicate – Kajoo; Lia Sophia Bracelet & Gift Certificate – Maria Burgess.
FINANCIAL CONTRIBUTIONS: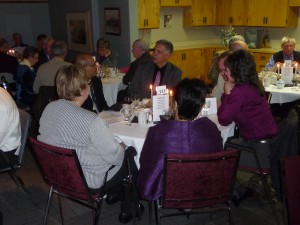 Henriette LeStat; Jack and Pat Hartshorn; Josef and Leslie Angele; Gertrude Rompre; Vern and Helen Ratzlaff; Agnes Richelhoff; George Rolheiser; Jim and Marie Louise Ternier-Gomers; Catherine Zerr; Paul and Lindsay Matheson; Hedy Senz; Robert and Margaret Sanche; Wilf and Cathy Kary; Corinne Pambrun; Jean Shirley; Rosallie Woloschuk; Ford and Dianne Mantyka; Alan Reese; Lori and Gerry Weinkauf; Linda and Terry Hoult; Janet and Art Postle; Les Soeurs de L'Assomption; Father Emil April; Elaine and Peter Zackreski; Louise and Brendan Bitz; Doris and Wayne Stus; Helen and Richard Stang; Sister Adeline Behm; Diane Boyko.
CONGRATULATIONS TO THE FOLLOWING PEOPLE!
Raffle Winners:  Dorothy Riemer, Marlene Leahmann, Sister Terry Horvath, Ernest Boyko, Eileen Thoner, Maria Monteiro, Christine Meier, Edna Redl, John McAulife, Kathy Jo Simmie, Michelle McAulife, Helen Krynowski, Bonnie Roberts, Laurel Scherr, and Colleen Kells.
Early Bird Winner of Father Ron Rolheiser Program in July, 2014 – Adele Giblin
The Grey Cup Pool winner is Kathleen Zolinsky from Cudworth  $290.00
The Grey Cup Bonus 50/50 Pool winner is Conor Palendat  $200.00
Thank you so much for supporting Queen's House in this endeavour!