A little more than fifty years ago, the Missionary Oblates of Mary Immaculate of St. Mary's Province, discerned the need to offer the people the spiritual services of a retreat centre. Father Edward Lequiea, OMI, was the prime mover in this discernment.
Work began almost immediately after the decision to proceed had been made. When the official opening and blessing took place on May 31, 1958, Queen's House of Retreats was a simple brick building located on the banks of the South Saskatchewan River at the then edge of the city of Saskatoon. Comprised of 34 small bedrooms, a chapel, lounge, kitchen and dining room, with an Oblate residence at one end and an apartment for the SMS Sisters at the other, it offered a hospitable place of prayer and spiritual renewal.
Today, 50 years later, the physical layout has grown. During this half century, for thousands of people that have spent time here – an hour, a day, a weekend, a week or longer – it has been a place to deepen one's relationship with God in an atmosphere of welcome and peace.
The spirit of the Founder of the Oblates of Mary Immaculate, St. Eugene de Mazenod, permeates the mission of Queen's House. As Father Fernand Jette, Oblate Superior General (1974-1986) wrote: "Right from the very beginning, this ministry was in some way foreseen and wanted by the Founder… We consider retreat houses to be, in a certain way, privileged places for evangelization. They are fully in line with the purpose of the (Oblate) Congregation whose first mission is evangelization, especially of the poor, of the most abandoned."
In this spirit Queen's House continues to respond to the Gospel to proclaim good news to the poor and the marginalized, serving the local community first and reaching outward and beyond. Queen's House lives the mission by releasing the artistic and creative potential in the human spirit; encouraging radically positive solutions for our world and proclaiming the non-violent Christ to assist us in becoming more effective agents of Christ's peace to the world.
For many years parish retreats were prominent and these gave a strong emphasis to involvement, formation and leadership of the laity. Retreat captains in each parish encouraged parishioners to attend a weekend retreat, often filling Queen's House to capacity. Priests and various religious orders also held their annual retreats here.
Eventually there was need to expand in order to accommodate the number of people who wanted to participate in the Queen's House programs. In 1964 a west wing was added which gave Queen's House another 16 bedrooms and what today is labelled Conference Room B. Over the years a number of Oblates held the position of Queen's House Director. Father Edward Lequiea, OMI, began the building in 1957, and was Director from 1958-1968 and then again from 1974 to 1978. Father Norbert Engel, OMI, from 1968 to 1974; and Father Ronald Dechant, OMI, from 1978 to 1981.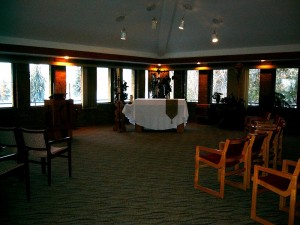 Father Glenn Zimmer, OMI, served as Director from 1981 to 1995. During this time a new chapel was built with windows overlooking the beautiful grounds and the South Saskatchewan River. A Stillness Lounge and Stillness Chapel were also part of the main floor with a conference room (Conference Room A), kitchenette, washrooms and reconciliation rooms on the lower floor of the addition. The original chapel off the main lounge became Conference Room C.
Queen's House was now able to accommodate a number of programs at the same time. Over the years attempts were made to reach out to the broader community. Spiritual Days for those involved in 12-Step programs along with ecumenical events were added to the calendar. Special guest speakers were invited to address current issues of concern in the church and society.
Four large bedrooms, the Prairie Lounge, office space and a staff room were built in 1988 and in 1991 the kitchen and dining room were remodelled. In an effort to subsidize its spiritual purpose, over the years Queen's House expanded its mandate to include facility rentals.
Father John Malazdrewich, OMI, became Director of Queen's House in 1995. In 1998, Larry Novakowski became acting Director.  Gisele Bauche joined Queen's House as director in the fall of 1998. This marked the beginning of Lay Directors at Queen's House, with the Oblates continuing to maintain an active presence.
While there have been many changes – in programs, personnel and facility – 50 years later Queen's House Retreat and Renewal Centre offers the same hospitality, quiet and beauty. Through our retreats and workshops Queen's House continues to foster a holistic spirituality that promotes healing qualities of compassion and reconciliation. At the heart of our ministry is to live our mission of hospitality and evangelization with an ecumenical and multi-faith soul, welcoming peoples from all walks of life.
Queen's House is a sacred space; it is a jewel in our prairie landscape of living skies, a place of prayer and worship, a place to seek healing, a place to replenish your soul. Queen's House is a home away from home.
We are grateful to OMI Lacombe Canada and the Oblates of our Saskatchewan Local Community for their support, commitment and leadership to Queen's House of Retreats and to the dedicated Oblate Directors, who through the years have given their heart and soul to its mission and vision.
Thank you to the Queen's House Board for accepting so generously to serve. We are sincerely grateful to you.
Finally to "you", our friends, patrons and volunteers, thank you for your dedication, courage, commitment and service to the Oblate vision and mission of Queen's House over the past 50 years. Thank you for gracing Queen's House with your presence and prayer, and for continuing the journey of faith with us. We look forward to ministering with you for many years to come and thank all who were able to join us for the celebration of our 50th Anniversary Celebration.
Written for the 50th Anniversary Celebrations of Queen's House
Sunday, June 1, 2008.