Our Spring Fling Lottery 2019 has been completed.  We are most grateful to all of you who have played and promoted this important fund raiser with and for us!  We are grateful for your participation as this is of vital importance to the support of our programming opportunities for spiritual renewal and to assist us in the provision of important, practical maintenance and operation of  the mission and ministry of Queen's House. On behalf of our Oblate Community, we thank you! God bless!
For more information, contact Queen's House at 306-242-1916 or Email
2019 Winners List
Fr. Maurice Fiolleau of the Prince Albert Diocese assists us with the May 3rd Spring Fling draw during this week's Diocesan Priests Retreat.
Thank you Fr. Maurice and all of our parish priests and staffs for your terrific encouragement and support.  Aldwin Abigania, a member of our kitchen staff assisted with this draw as witness.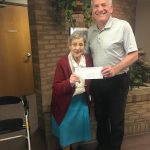 Sr. Catherine Seemann of Saskatoon was our May 8 Spring Fling draw winner and received a cheque for $150 from Brendan.  It is not often that we are able to present to our various winners in person, so this was a delightful coincidence as Sr. Catherine was here for a Day Away retreat.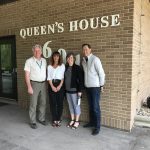 Patti Seto was our 2019 50-50 Draw winner. She was able to pick up her cheque and was joined by her husband Terry for the presentation.  Elaine and Brendan were pleased to share in the excitement of the pay out.